Here in New England, the fall season brings cooler temperatures, changing leaves, and the start of school. If you're like most homeowners, you may be thinking of turning on your heating system for the first time.
However, HVAC systems are a bit like cars; you can't just turn them on after months of disuse and expect them to work perfectly. To work properly and efficiently, HVAC systems need to be regularly maintained.
HVAC Maintenance Tips
As a homeowner, you should call a Wells, Maine HVAC technician for a professional tune-up at least once a year, and fall is the perfect time to do it. Being proactive about HVAC maintenance is smart because it's much less expensive; during a tune-up or inspection, an HVAC technician can catch issues before they become catastrophic. A broken heating system in the dead of winter is much more problematic – and expensive – than rectifying a smaller issue during a tune-up. Plus, preventative maintenance will significantly extend the lifespan of your HVAC system.
Here's a fall HVAC maintenance checklist that you can tackle alongside a professional tune-up:
1. Test your HVAC system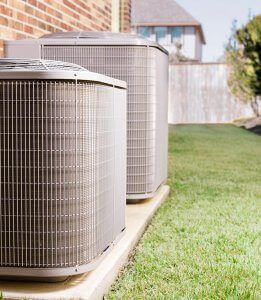 The first step of an HVAC maintenance checklist is to test the system. It's a smart idea to make sure your HVAC system works before it gets to the point where you need it to stay warm. Using your thermostat, run the heating system and make sure that the system is calling for heat by feeling for the air temperature coming out of your vents. If it's not warm, you'll need to call an HVAC company to get your system serviced.
2. Change the batteries in your thermostat
If your thermostat runs on batteries, check to make sure the batteries have enough juice. Most thermostats will flash a low battery indicator on its screen.
3. Change your HVAC filters
Regularly changing HVAC air filters ensure that your indoor air quality is good. You should change your air filters more frequently if you have pets or people with allergies living in your home – usually, around 3 times a year is a good rule of thumb. If your filters are discolored, it's time to change them.
4. Clear your HVAC vents
Your heating system will work most efficiently when the vents are clear. Make sure that there is no furniture over the vents before you start up the system, whether you have a furnace or a boiler.
5. Clean your chimney
Many heating systems dispel carbon monoxide and other debris out of chimneys, so if your chimney isn't properly cleaned, those gases could stay in your home. This can create a health hazard.
6. Clean your condenser
If you have a heat pump, make sure to check your outdoor condenser. During the fall, it's likely that leaves or other debris have fallen onto the unit. As temperatures drop, animals may crawl into your condenser to stay warm. Your condenser must be cleared of debris to work properly, so make sure it is clean.
How HomeWiz Can Help
This fall HVAC maintenance checklist is simply a way to get started; a true HVAC maintenance check will delve into areas that a non-professional shouldn't touch, such as inspecting a flue and checking fan motors. At HomeWiz, our technicians offer a thorough 22-point maintenance check that will cover all your bases.
It's smart to be proactive with your HVAC system. Sign up for HomeWiz's service club membership plan to get a free annual tune-up and make sure your HVAC system is in prime condition.
Call HomeWiz in Wells today at 844-RINGWIZ to ask about our HVAC maintenance plans.